2020's Easy Money Making Strategies - Register now!

Action-driven films 'Shershaah' and 'Uri' have renewed the interest in border conflicts and it seems like the Indian audiences have an insatiable appetite when it comes to patriotic stories. The 'Shershaah' story is based in Kargil and it was shot in the mountains of Kashmir too. But, 'Uri', which was based in Jammu & Kashmir too, had to be shot in Serbia. It's not always easy to shoot in Kashmir, at least not as easy as shooting in Uttar Pradesh or some Scandinavian country is. There was a time during the '60s and '70s when perpetually every big Bollywood film used to shoot at least one song, if not a whole schedule in the exotic locales of Kashmir. But the days of Shammi Kapoor yelling 'Yahoo!' or Sharmila Tagore serenading Dal lake in 'Kashmir Ki Kali' is a part of a distant but beautiful memory. That doesn't mean that the good ol' days can't be back again.
Earlier this month, Aamir Khan (who's just shot a portion of 'Laal Singh Chadha' in Ladakh) and Rajkumar Hirani (who shot a segment of '3 Idiots' in the same location), were in the picturesque UT to launch Jammu & Kashmir's Film Policy, along with lieutenant governor Manoj Sinha. Under this new policy–drafted to promote the overall growth of the film industry in the Union Territory–the Jammu and Kashmir Film Development Council will be set up. The officials aim to facilitate the development of shooting locales, focus on destination marketing, organise the J&K film festival, and also turn their attention towards the restoration and preservation of films from the region. They have promised to provide infrastructure for film screenings by reviving closed cinema halls, upgrading existing cinema halls, and encouraging the setting up of multiplexes and cinema halls. It's a monumental effort to bring back film shoots to Kashmir, a sort of throwing-the-kitchen-sink effort at reviving Kashmir's glory days.
Over the years, the beautiful valley has provided a backdrop for innumerable Hindi films, more often than not, meshing itself into the narrative so irreplaceably, it is difficult to imagine the film being shot elsewhere. Can you picture Amitabh Bachchan going 'Kabhi Kabhi Mere Dil Mein' to a coy Rakhee anywhere other than against the stark and secluded backdrop of Kashmir? Would Haider's 'Hello Hello Hello' speech be half as impactful if not complemented by the deserted streets of the valley? The more recent Bollywood outings 'Uri: The Surgical Strike' and 'Shershaah', too, once again capture Kashmir in all its glory, even as deadly army missions play out in the foreground.

While Bollywood has had a long-standing love affair with what has been termed to be 'paradise' and has also started shooting there again, we assess what are the problems that film crews face while shooting at a place marred by political unrest, and how the film policy, if implemented correctly, can turn things around not just for the Hindi film industry but also for the people of Kashmir. Read on:
Glory days


The muse to countless poets and writers, Kashmir with its mountains, lakes, tulip fields, apple orchards, and snow, has been luring filmmakers to make the most of its beauty on the visual medium. Film critic Dilip Thakur reminded that Bollywood stepped out of the studio for the first time to shoot in Kashmir with 'Kashmir Ki Kali' and became a favourite with filmmakers like Ramanand Sagar, BR Chopra, and Shakti Samanta. But with the rise of militancy in the region, shoots stopped in 1986, only to resume in 2000 with 'Mission Kashmir', shot under high security. "Earlier, it was romance in Kashmir, with just songs shot there and nothing else, but then Kashmir became part of the narrative with films like 'Farishtey', 'Roja', and 'Mission Kashmir','' Dilip pointed out.
Rajkumar Hirani is all praise for the beauty of the valley and points out that there is any sort of location that isn't available in Kashmir for film shoots. "In fact the locations here are so beautiful and serene, that it can give a tough competition to a lot of places the world over. Even hospitality-wise, I don't think any other place in India does it better than it is done in Kashmir, undoubtedly. All these things and more make Kashmir extremely conducive for film shoots," he gushes.
Phantom of Kashmir


The strategic location, rich history, and political significance of Kashmir meant that it would always make headlines. In the late '80s, when reports of unrest in the valley started percolating into mainstream media, Bollywood was also waking up to the potential of issue-based cinema. However, with the union territory out of bounds for shooting dreamy love sequences, they started to focus on the situation to spin stories of heartbreak, patriotism, and bravery that were coming out of the valley. Such is Bollywood's obsession with J&K, that it has been recreated several times on celluloid.
Describing her tenure there as "very troubling times", former Director of Information, Farooq Renzu Shah relays, "It was during the time when the Afghans and Taliban were very active in Kashmir. In the 1990s the first dictation came from the Wahabis who banned music and films in Kashmir. The cinema halls were closed down, and if they didn't comply, grenades were thrown at them. Shooting in Kashmir has been a risk for filmmakers who were attacked and kidnapped and whoever shot there in those days was at their own risk as the local government did support as they wanted to appease the radicals".
Sharmila Tagore: Our films gave visibility to Kashmir, not enough to Kashmiris or Kashmiriyat
Kunal Kohli, whose film 'Fanaa' was based in Kashmir, could not shoot there. In an interview, the filmmaker had said that he had surveyed locations but didn't find one conducive enough to shoot without worrying about the safety of the cast and crew. The climax of the film was then shot in Poland. "We didn't go to Kashmir to shoot for 'Roja', as in the '90s it was not open (for shoots). We shot the Kashmir portions of the film in Manali," reveals Madhoo Shah, crediting filmmaker Mani Ratnam for bringing out the most socially relevant topics with a love story.
But it's not just Bollywood films that the valley lost out on thanks to the chaos. Tom Cruise's 'Mission: Impossible Fallout's climax scene was set in Kashmir but had to be shot in New Zealand. Films' director Christopher McQuarrie told IANS: "We couldn't shoot the aerial sequence in India; it was a little too crazy. So, we ended up in New Zealand… (but) we wanted something which was more political complex than New Zealand".
An uphill task


Kabir Khan made quite a statement when, after shooting for 'Bajrangi Bhaijaan' with Salman Khan there, he claimed Kashmir was safe for shooting. But later, he himself had to put off the shoot of 'Tubelight' due to unrest in the state, after the death of Burhan Wani. Producer Shabbir Boxwala, whose 'Shershaah' was shot extensively in Kargil also had to deal with the uncertainty that comes with the prevailing unrest. "A week before we were to start shooting in Kashmir, Article 370 was lifted, so we had to shift the lot of Kashmir shooting to Kargil and the cast and the crew, which was landing in Srinagar, had to be diverted and had to go through Leh. All our trucks carrying equipment had to come through Manali, and our shooting got delayed because of the heavy traffic on that route,'' he recalls, adding that despite director Vishnvardhan wanting to shoot in Sopore– a hot terrorist belt–they had to make do with locations in Kargil itself. "It was unsafe and they wouldn't give us permission. But we had visited the Sopore location and recreated it for the shoot,'' he informs.
The people of Kashmir


While Meghna Gulzar didn't have to face unrest while filming for 'Raazi' in Kashmir, she did encounter several logistical challenges. "The locations we chose were away from the city; the film called for remote areas. But we had a very good pre-production team, and people went out of the way to help us. Kashmir does not have an established industry, so there were no junior artistes associations from where you could go and hire people. Friends and family of the locals who were helping us would step in for the wedding sequences. Though we were shooting at odd hours of the night, people came and stood for their part, expecting nothing in return. Of course, they got paid for it," she shares.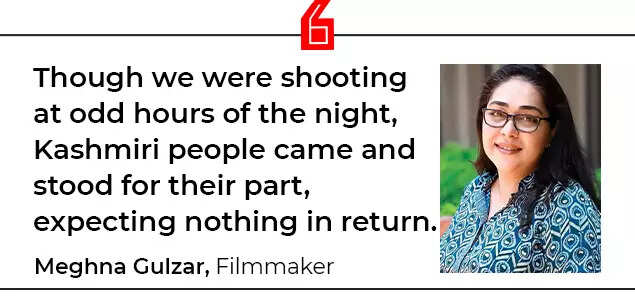 When Nitin Kakkar and his team were prepping up for 'Notebook', the situation in Kashmir was making them nervous. "But once we went there to shoot it was quite pleasant. Only once, there was an odd case when somebody yelled at the unit, otherwise the locals were very welcoming". Aamir, who has shot for '3 Idiots' in the union territory, also sang praises of the people of Kashmir. The actor told reporters that he was happy that the government was planning to start a film institute, which will give a great opportunity to the youth of Kashmir to enter the creative field and learn about it. "We would like to see an industry come out of Jammu and Kashmir,'' he said on an encouraging note.
What Aamir has envisioned might become a reality sooner than you might expect. Kashmiri filmmaker Danish Renzu, who made 'Half Widow' set against the backdrop of the Kashmir conflict, is all excited about the film policy and making the place film-friendly. "It's always easy to film in Kashmir. The locals themselves want to participate in the process and are very keen to join the industry". He hopes that there are incentives for filmmakers who shoot their films in Kashmir and that they get a lot more support from the government when it comes to security and permits.
A solution in the making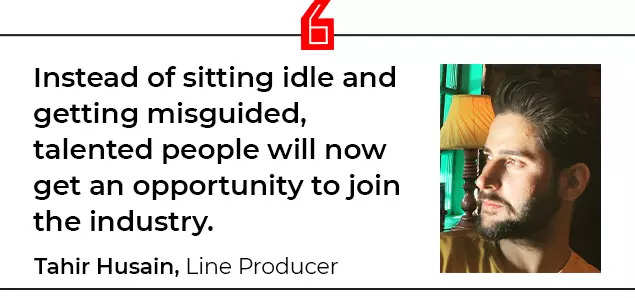 Tahir Husain, a line producer who has engaged with a lot of celebrities who come to shoot in the valley, feels that the policy is a boon for the youth of Kashmir. "Instead of sitting idle and getting misguided, talented people will now get an opportunity to join the industry," he said, full of hope. Predicting that the policy will be a gamechanger, Farooq adds, "It will reduce the impact of radicalism and attract the youth to making films and getting employment. Now is the golden chance for Kashmir talent to be utilised. When Prime Minister Narendra Modi was canvassing in Kashmir before he became the Prime Minister, he had said that he will make a film university in Kashmir, and he has fulfilled his promise".
Ready, set, go!


With the emphasis on smaller crews in the wake of the pandemic, filmmakers will be delighted to know that, with the film policy in place, they can now travel light and with smaller teams to Kashmir. In fact, to avail of the film policy benefits, they have to agree to the condition that they will hire a certain percentage of Kashmiris in their film. Kashmiri line producer Tahir Husain explains, "If any production house is coming to shoot, they have to hire local talent. We have experienced cinematographers, assistant directors, and actors, who have worked in Bollywood, and also some very talented freshers who are looking for opportunities".
Meghna, who appreciated the help of the locals in her film, however, feels that the one drawback Kashmiri actors have is that they are so distinctive, they cannot just play any part because of their language, their lehja (dialect and mannerisms), and their physicality. "You can't cast them as Punjabis; they are mostly suitable for Kashmiri characters. Training is a craft, but what I am saying is that what will you do about their physical characteristics? Then, of course, there are trained actors like Ashwarf Bhatt who played an important role as he fitted the character. The paucity of content with Kashmir as the backdrop is a major drawback for them," she rues.

However, several Kashmiri actors have, over the years, made it big in Bollywood. Casting Director Mukesh Chhabra, who has worked on films like 'Haider', 'Bajrangi Bhaijaan' insists he always hires local talent for films. He, too, is hopeful about recruiting many more Kashmiris with the introduction of the film policy. "I would like to open a drama school and conduct workshops to groom local talent which is needed for the artistes of Kashmir," he asserts.
Film policy by the Kashmiris, for the Kashmiris


Unlike the other regional cinemas, Kashmiri cinema has always struggled for its existence. The first Kashmiri film 'Mainz Raat' released in 1964, then 'Shayar e Kashmir Mahjoor', a biography of Kashmiri poet Mahjoor was released in 1972. The third Kashmiri film 'Bub', directed by Jyoti Sarup was made only 39 years later, followed by 'Inqalaab'–both of which didn't release in Kashmir because of the insurgency that led to a halt in the shoot of Kashmiri films and ban on release of Bollywood films.
Rahul Bhatt, who is presently in Kashmir, is happy with the film policy but feels that like other regional cinema Kashmiri cinema needs to be promoted too. Along with lauding the initiatives taken to promote Bollywood and other regional cinema in the valley, he also hopes that it will help facilitate things for local filmmakers too. "With this single-window clearance and all kinds of security, this government should proactively give subsidy to Kashmiri cinema.''
Danish Renzu, who has made a Kashmiri film and more recently an international film 'Illegal' with Suraj Sharma, seconded Rahul to say that there are a lot of untold stories of Kashmir that need a platform. "Besides the beauty of Kashmir, it is the culture, music and even stories of commoners which I believe still haven't been fully justified in Bollywood. Besides violence and terrorism, there are untold stories of the day-to-day lives of the people of Kashmir that need a voice," he maintained.

Source link

2020's Easy Money Making Strategies - Register now!